About GFS
Our strength is our people. We come from different backgrounds such as liner shipping, international freight forwarding, logistics, engineering, procurement and military contracting. This has enabled us bring these diverse capabilities to forge the consolidated strength of the company today.
The true meaning of highly demanding logistics services we learned and practiced when serving the United States and other Nation's Armed Forces for a period of 8 years in Iraq from 2003.
Covering the broader scope of logistics we handle land transportation, airfreight including air charters, shipping, procurement and trading, export and import and construction activities.
Currently we have been taking steps to incorporate supply chain management solutions with e-commerce as part of our logistics offering to meet market demands. We pride ourselves as one of the leading solution based organizations in Kuwait.
GFS brings its customers state-of-the-art technology, quality and personalized customer care with high-end services that offer you practical, affordable and time saving solutions. We place the greatest importance on understanding your business and your needs, ultimately being able to offer solutions that will not only meet but exceed your expectations. Our aim is to support your growth by combining competitiveness and reliability throughout your supply chain. We can identify the challenges you face today and understand your strategy and challenges of tomorrow.
0
TONS OF AIR FREIGHT EVERY YEAR
GFS Timeline

GFS
GFS will strive to ensure of normal/emergency operations by adopting the following policies on HSE compliance and hazards prevention plans.Safeguard the safety and health of every employee and train them to accept their own duty to exercise care and responsibility to themselves and their fellow workers. To identify, prevent, eliminate and/or control all hazards. Establish communication for resolutions of concerns for correcting and improving the quality of safety and health. Assess all accidents and incidents, complete with detailed reports, which shall form part of a risk management program. Hold regular safety audits and inspections to assess the HSE performance. Document and periodically review all occupational HSE procedures and practices.
Quality is embedded in our Business Operations which establishes procedures for providing our products and services and customer engagement itself. The QMS has been established in conformity to the International Standards of IATA, FIDI, FIAM,IAM various industry association. The basis for our QMS is found in our company's stated behaviour. Our behaviours provide guidelines that help to meet objectives such as:
∙ Focus on Customers Focus on Details
∙ Business Process Supremacy
∙ Continuous Improvement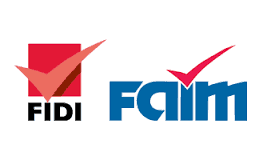 Kuwait
UAE
Iraq
Afghanistan
Djibouti